Consumer Wellness Center Labs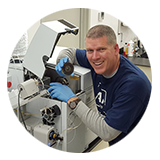 CWC Labs specializes in the analytical testing of foods and dietary supplements with an emphasis on organic products.
Our lab was built from the ground up by Mike Adams, the "Health Ranger," active AOAC member, author of Food Forensics and developer of two patent-pending dietary supplements that offer protection from toxic elements (Heavy Metals Defense and Cesium Eliminator). Adams serves as the Lab Science Director and oversees the operation and calibration of all analytical instrumentation.
Unique to CWC Labs is its founder's extraordinary knowledge of food composition, nutrition and the toxicity of certain chemicals and elements. Adams can not only tell you what's in your product; he can help customers make strategic formulation decisions to eliminate virtually all toxic substances from the final product.
The lab's mass-spec Time-Of-Flight instrumentation provides wide-ranging screening capabilities for unknown substances. Using various scientific methods, we can screen almost any liquid or solid sample for over 25,000 known chemicals, covering pesticides, industrial chemicals, recreational drugs, food additives and more.
While many other labs with much older equipment are used by food companies who don't really want to know what's in their products, CWC Labs is for customers who want to know exactly what's in their products, down to single digit parts per billion (ppb) concentrations. We run equipment that's capable of detecting mercury as low as 50 parts per trillion.
Learn more about the Health Ranger
CWC Labs accepts commercial clients only. It does not offer testing services to individuals.